Take Homemade Family Favorites to New Heights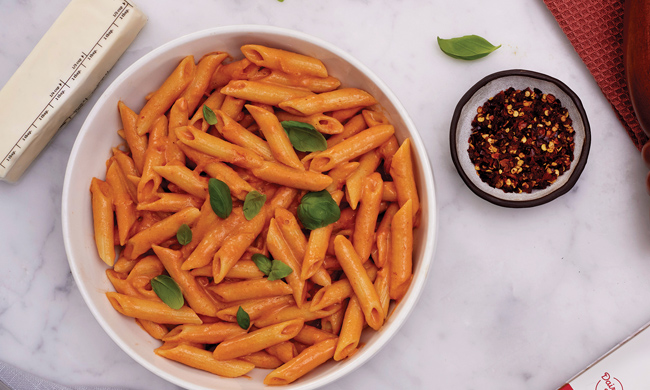 (Family Features) Gathering together to enjoy a meal at the family table or a sweet treat at the end of a long day is what time with loved ones is all about. Turning to beloved classics can bring everyone running to the kitchen to share the flavors of those familiar favorites.
Savor the timeless taste of pasta with this Penne Alla Vodka, a classic dish high on flavor and low on hassle so you can have a meal ready in just 30 minutes. Plus, it offers an alternative to traditional recipes by using Country Crock Plant Cream, a new dairy-free substitute for heavy whipping cream perfect for using in a variety of your favorite dishes.
Made with delicious plant-powered ingredients, it provides the taste of heavy whipping cream without the heaviness. As a 100% vegan, dairy-free and soy-free solution, it's a 1-for-1 swap for heavy whipping cream in cooking and baking recipes, making it ideal to have on hand year-round.
When it's time to settle down for the night, end the day on a high note with the sweetness of Strawberry Shortcake. Toss strawberries with sugar, create your own whipped plant cream and make shortcakes from scratch for a true taste of home.
Visit
CountryCrock.com
for more ways to elevate weeknight meals and desserts.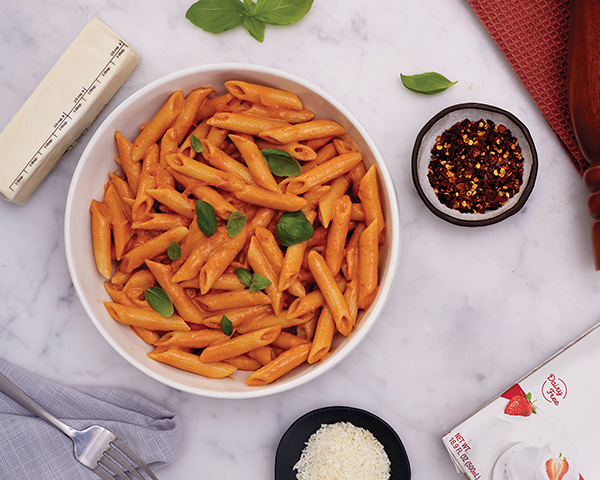 Penne Alla Vodka
Prep time: 10 minutes
Total time: 30 minutes
Servings: 5
1 tablespoon Country Crock Plant Butter with Olive Oil
1/2 cup chopped white or yellow onion
1/2 teaspoon finely chopped garlic
1/2 cup tomato paste
1 pinch red pepper flakes
1/4 cup (2 fluid ounces) vodka
16 fluid ounces Country Crock Plant Cream
1/4 cup (2 fluid ounces) water
3 cups dry penne pasta, cooked and drained
1/4 cup grated vegan Parmesan cheese
1/2 teaspoon kosher salt
1/4 cup loosely packed fresh basil leaves
In pan over moderate heat, melt plant butter. Add onions and garlic. Cover and cook until onions are translucent, about 5 minutes.
Add tomato paste and red pepper flakes. Cook until tomato paste starts to lightly brown.
Add vodka and stir well, scraping bits of browned tomato paste from bottom of pan. Cook over high heat until liquid is reduced by about half to concentrate flavors.
Add plant cream and water; stir to incorporate tomato paste evenly. Bring to simmer.
Toss in cooked pasta. Add vegan Parmesan, salt and fresh basil.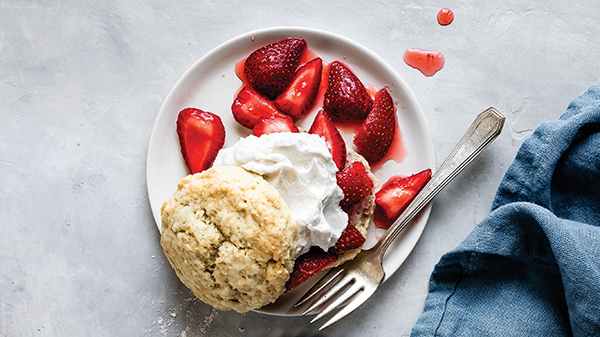 Strawberry Shortcake
Prep time: 20 minutes
Cook time: 12 minutes
Servings: 8
Strawberries:
2 pounds strawberries, hulled and sliced
6 tablespoons sugar
Whipped Plant Cream:
2 cups Country Crock Plant Cream, directly from refrigerator
2 tablespoons powdered sugar
2 teaspoons vanilla extract
Shortcakes:
3/4 cup chilled Country Crock Plant Cream, plus additional for brushing, divided
1 tablespoon lemon juice
2 cups flour
2 tablespoons sugar
2 teaspoons baking powder
1/2 teaspoon baking soda
1/2 teaspoon salt
1/2 cup (1 stick) Country Crock Plant Butter Sticks with Avocado Oil, melted
1 tablespoon turbinado sugar
To make strawberries: In bowl, toss sliced strawberries and sugar. Let berries sit 30 minutes-2 hours before serving.
To make whipped plant cream: In chilled bowl, using electric hand mixer or stand mixer on high, whisk chilled plant cream, powdered sugar and vanilla extract until plant cream thickens and stiff peaks form.
To make shortcakes: Preheat oven to 475 F.
In small bowl, mix 3/4 cup plant cream and lemon juice; set aside 2-3 minutes, or until it begins to curdle.
In large bowl, whisk flour, sugar, baking powder, baking soda and salt. Stir in plant butter and plant cream mixture.
Knead dough a few times then shape into 1-inch-tall circle. Cut circle into eight wedges. Transfer wedges onto baking sheet lined with parchment paper. Brush tops of biscuits generously with additional plant cream and sprinkle turbinado sugar on top.
Bake 10-12 minutes, rotating sheet halfway through baking. Biscuits should be golden brown. Cool before assembling.
Split each biscuit in half. Spoon strawberries over half of biscuits. Add dollop of whipped plant cream on top. Layer other biscuit halves on top followed by more strawberries and plant cream.

SOURCE:
Country Crock Plant Cream
Make Healthy Easy with Grapes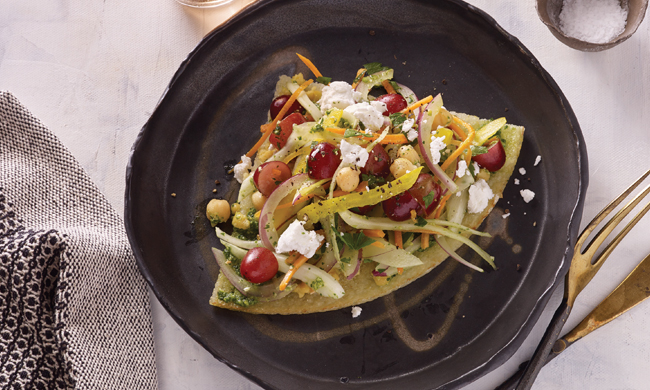 (Family Features) If you're like many Americans who put a priority on well-being, choosing simple yet healthy snacks and ingredients is an easy first step. For example, grapes are a popular and convenient fruit that can also be an ally in wellness, offering an abundance of health benefits that can help you get (and stay) on the right track.
The next time you enjoy an outdoor adventure, pack along a healthy snack such as California grapes. They can go with you on hikes and bike rides or to the gym as a healthy and hydrating source of energy. Heart-healthy grapes also deliver beneficial antioxidants and other polyphenols and are a good source of vitamin K, which supports bone and heart health. With no need to peel, cut, core or slice, grapes are perfectly portable when you're on the go.
As an easy, versatile ingredient that can be used in a wide variety of recipes, grapes offer delicious taste, texture and color – plus a healthy boost – that make them an appealing addition to snacks and meals. An added bonus: Grapes help support heart, brain, colon and skin health.
Crunchy Salad Pizza on Cauliflower Crust is a simple way to get your fruits and veggies in a fun, tasty recipe. When it's time for a filling yet nutritional dinner, Warm-Spiced Chickpeas and Couscous with Grapes and Arugula makes for an ideal vegetarian meal. Plus, this easy-to-make dish includes 8 grams of fiber to help support colon health.
Grapes and seafood are a classic combination, and this Roasted Salmon and Grapes with Pistachios Over Fresh Greens is no exception. A perfect dish for family dinners or inviting guests for a meal, it offers antioxidants and other polyphenols from grapes along with healthy omega-3 fats from fish.
Whatever your path to health, eating well and encouraging healthy habits can be deliciously easy with the benefits of grapes. Find more health benefits and good-for-you recipe ideas at GrapesFromCalifornia.com.
Grapes and Your Skin
While naturally hydrating and delivering beneficial antioxidants and other polyphenols, grapes also offer more: they may help support healthy skin even when exposed to UV light. In a study conducted by the University of Alabama, subjects consuming 2 1/4 cups of grapes every day for two weeks showed increased resistance to sunburn and reduced markers of UV damage in skin cells.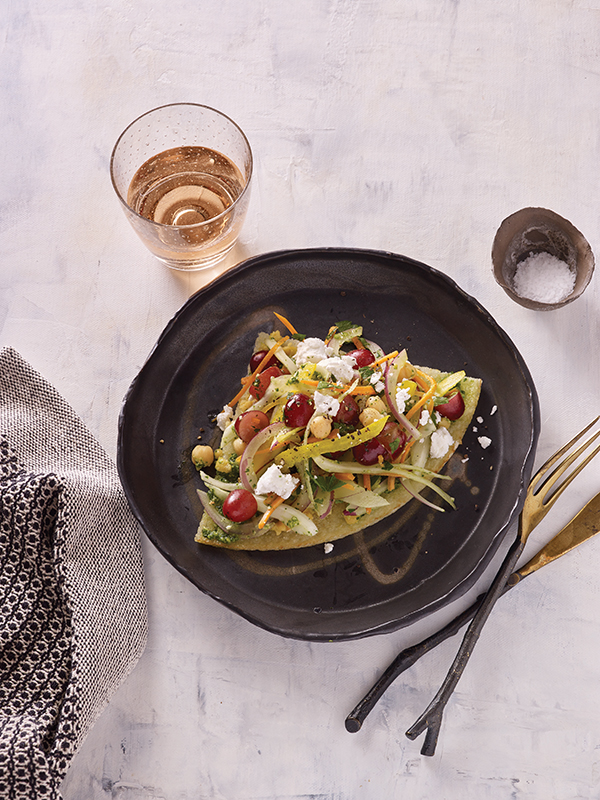 Crunchy Salad Pizza on Cauliflower Crust
Prep time: 20 minutes
Cook time: 10 minutes
Servings: 4
1 frozen cauliflower pizza crust (11 ounces)
1 tablespoon, plus 4 teaspoons, extra-virgin olive oil, divided
2 medium carrots, peeled and trimmed
1 medium fennel bulb, quartered and trimmed
1 medium yellow bell pepper, halved and trimmed
1/2 medium red onion
16 black California grapes, halved
1 cup canned or cooked chickpeas, drained and rinsed, divided
2 tablespoons finely chopped fresh parsley
2 tablespoons pesto
salt, to taste
freshly ground black pepper, to taste
1 ounce fresh goat cheese, crumbled
Heat oven to 400 F. Place frozen crust on large, parchment-lined baking sheet and brush top lightly with 2 teaspoons olive oil. Bake until crust is lightly golden, about 10 minutes. Transfer to cutting board and cut into quarters.
Using mandolin, peeler or large, sharp knife and cutting board, thinly slice carrots, fennel, bell pepper and onion. Transfer to mixing bowl and add grapes and 1/2 cup chickpeas. Add parsley, pesto and 1 tablespoon olive oil; toss well. Season with salt and pepper, to taste.
Using fork, coarsely mash remaining chickpeas and remaining oil; spread among pieces of crust. Mound grape-vegetable mixture on top. Dot with goat cheese and serve
Nutritional information per serving: 490 calories; 9 g protein; 66 g carbohydrates; 22 g fat (40% calories from fat); 4 g saturated fat (7% calories from saturated fat); 30 mg cholesterol; 380 mg sodium; 4 g fiber.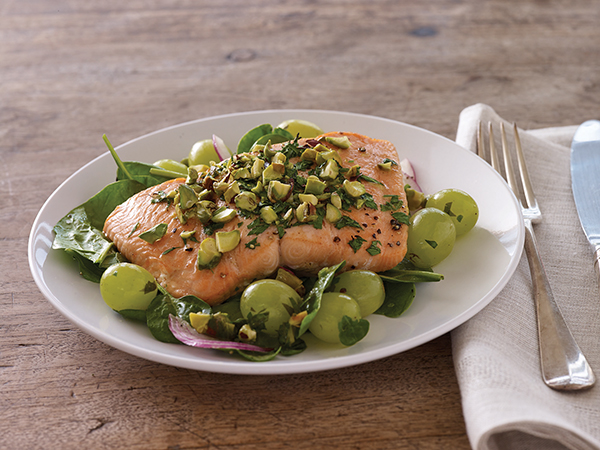 Roasted Salmon and Grapes with Pistachios Over Fresh Greens
Prep time: 15 minutes
Cook time: 7-8 minutes
Servings: 4
4 wild sockeye or coho salmon fillets (about 5 ounces each)
3 tablespoons extra-virgin olive oil, divided
salt, to taste
freshly ground black pepper, to taste
1/3 cup dry white wine
1 cup green California grapes
1/4 cup shelled, unsalted pistachios, coarsely chopped
2 tablespoons finely chopped Italian parsley
5 ounces baby spinach
1/4 red onion, thinly sliced
1 tablespoon white wine vinegar
Heat oven to 400 F. Lightly oil shallow, 9-by-13-inch baking dish.
Pat fish dry and place skin side down in pan. Brush fillets lightly with 1 tablespoon olive oil and sprinkle with salt and pepper, to taste. Pour wine in pan, scatter grapes around and sprinkle pistachios and parsley on fish.
Roast salmon 7 minutes for medium-rare; 8 minutes for medium.
In large bowl, toss spinach, onion, remaining oil and vinegar. Season with salt and pepper, to taste; toss again and divide among four plates.
Place fish on top of greens. Spoon roasted grapes around fish.
Nutritional information per serving: 360 calories; 31 g protein; 12 g carbohydrates; 19 g fat (48% calories from fat); 3 g saturated fat (8% calories from saturated fat); 65 mg cholesterol; 105 mg sodium; 2 g fiber.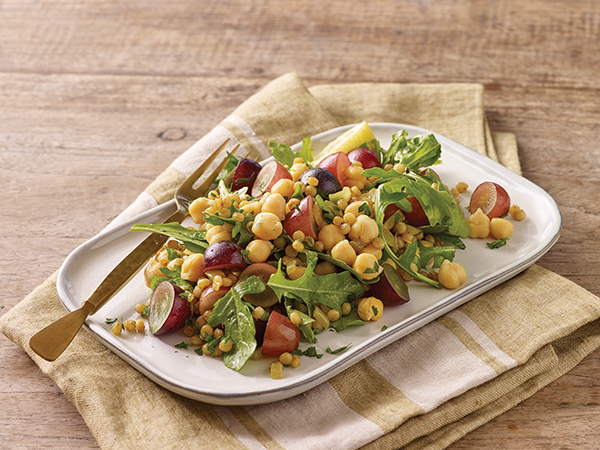 Warm-Spiced Chickpeas and Couscous with Grapes and Arugula
Prep time: 10 minutes
Cook time: 20 minutes
Servings: 4
2 tablespoons extra-virgin olive oil
1 small onion, chopped
1 1/2 teaspoons ground cumin
1/2 teaspoon kosher salt, plus additional, to taste, divided
1/8 teaspoon ground allspice
1 cup Israeli pearl couscous
3/4 teaspoon ground turmeric
1 1/2 cups water
1 can (15 ounces) no-salt-added chickpeas, drained
1 cup red California grapes, halved
2 tablespoons chopped fresh cilantro or parsley
freshly ground black pepper, to taste
4 cups lightly packed baby arugula
lemon wedges
In large saucepan over medium heat, heat oil. Add onion, cumin, 1/2 teaspoon salt and allspice; cook, stirring, until onion is softened, about 3 minutes. Add couscous and stir 1 minute to toast lightly. Add turmeric and water; bring to boil. Reduce heat, cover and simmer until couscous is tender, about 15 minutes.
Stir chickpeas, grapes and cilantro into couscous then season with salt and pepper, to taste. Transfer couscous-grape mixture to large bowl, add arugula and toss well. Serve warm or at room temperature with lemon wedges.
Nutritional information per serving: 370 calories; 12 g protein; 61 g carbohydrates; 9 g fat (17% calories from fat); 1 g saturated fat (2% calories from saturated fat); 0 mg cholesterol; 160 mg sodium; 8 g fiber.

SOURCE:
California Table Grape Commission
3 Tips to Maintain Brain Health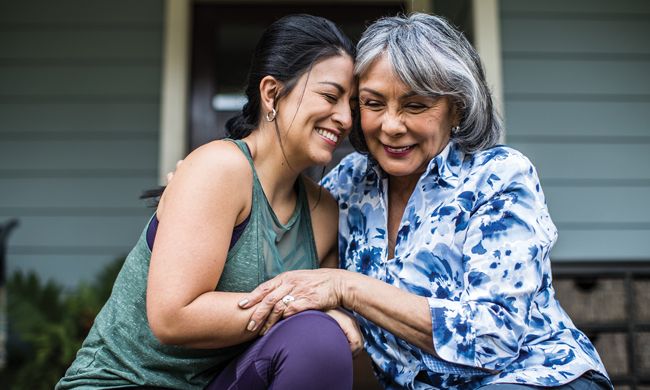 (Family Features) Many people are fearful of developing Alzheimer's disease, especially those with a family history of the condition. Researchers are investigating innovative treatments for Alzheimer's and other dementias, but no cure exists right now.

There are steps people can take, however, to help maintain and support their brain health. These activities often help with physical and emotional health and are generally positive habits to foster, especially as people age. In fact, a report from "The Lancet" found the risk of dementia is lower among people who adhere to these healthy habits:
Get Physical
According to Harvard Medical School, exercise keeps the brain healthy by helping release chemicals that support the development of new nerve cells and connections between brain cells. Exercise also improves mental health, blood pressure and the regulation of blood sugar, all of which can impact the development of cognitive diseases like Alzheimer's and other dementias. Staying physically active can become more difficult if someone's health declines, but doctors and other medical providers can share ways to maintain physical activity even if mobility is limited.

Keep Your Brain Active
Engaging in mentally stimulating activities may help keep the brain fit and potentially stave off dementia or other types of cognitive decline. For example, people who have cognitively demanding jobs (like accountants or math teachers) or who engage in cognitively stimulating activities (like learning a second language or how to play a musical instrument) may be at lower risk for developing cognitive decline and dementia, according to Harvard Medical School. Activities like these and more can also decrease feelings of depression, isolation and loneliness, which occur more frequently as people age and are also associated with an increased risk for developing dementia, according to the National Institute on Aging.

Track Your Brain Health and Get Help Early
One way to detect changes in brain health is to track memory and other thinking skill performance over time. Detecting changes in memory is critical to slowing the progression of Alzheimer's, which can begin 15-20 years before the onset of obvious symptoms. Some changes in mood or memory that may raise red flags are often noticed by other people, not by the individual experiencing the changes, making it important for older adults who live alone or who do not have large social circles to track their own brain health.

One option for tracking brain health is the Alzheimer Prevention Trials (APT) Webstudy, funded by the National Institutes of Health, which monitors an individual's brain health through regular online memory testing that can be completed anywhere, anytime from a computer, laptop or tablet. Participants take no-cost, online memory tests quarterly that are automatically shared with researchers who track results over time. If changes in memory are detected, and a participant is close enough to a study site, he or she may be invited to an in-person evaluation and, if appropriate, given the option to join an Alzheimer's clinical trial.
While researchers are working to advance treatments and find a cure for Alzheimer's, it's important that people practice healthy brain habits and monitor their brain health as they age to detect any changes in memory as early as possible. Without a cure, taking preventive measures and maintaining a healthy lifestyle are the best defenses against the disease.
Find more information at APTwebstudy.org.
Alzheimer's Facts
Photos courtesy of Getty Images

SOURCE:
APT Webstudy
Keep Pets Safe All Summer Long
4 tips to overcome warm weather hazards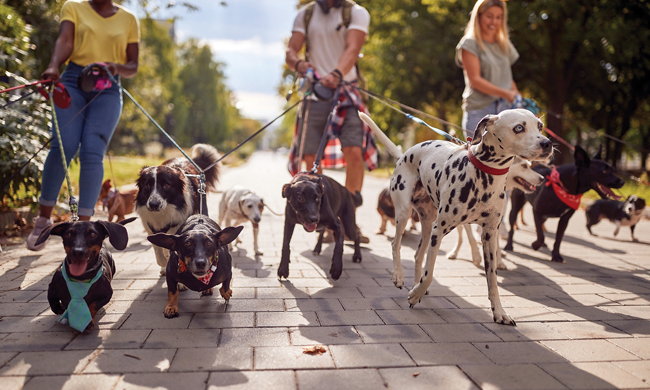 4 tips to overcome warm weather hazards
(Family Features) Summer means extra time outdoors. Sunny months provide a perfect opportunity for bonding with pets, but higher temperatures, seasonal plants and pests and additional travel can pose higher risks for complications.
To help keep dogs, cats and other pets safe during summer adventures, consider these tips from the experts at VCA Animal Hospitals, which has more than 1,000 locations across North America that cared for more than 4.5 million pets last year.
Beat the Heat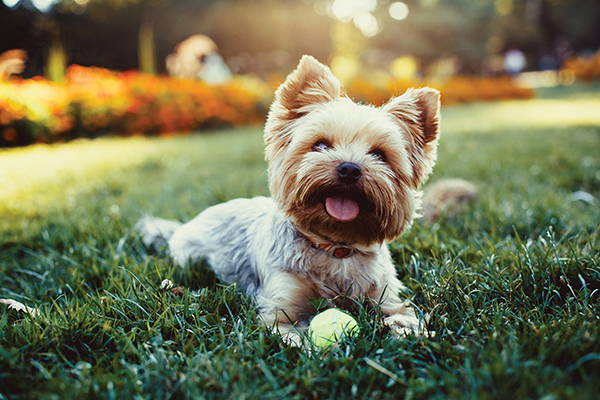 Dogs and cats cannot control their body temperature by sweating as humans do. They have a small number of sweat glands located in their footpads and primarily regulate their temperature by panting. Vigorous exercise, leaving a pet in a vehicle with poor ventilation – even if the windows are down – or being left outside without shade and water on hot days can lead to heatstroke, or hyperthermia.
Increased humidity combined with warmer temperatures intensifies the risk of heat stroke, especially during the first few warm days as pets transition to outdoor activity. If your pet exhibits any symptoms of heatstroke – elevated breathing rates, dry or sticky gums, lethargy, disorientation, abnormal gum color, bruised gums or seizures – pour cool water over your pet's head, stomach and feet or apply cool, wet cloths, ensure continuous airflow and see a veterinarian immediately.
Keep Ticks at Bay
As pets spend more time outdoors in the summer, they're often exposed to pests like ticks. Ticks can transmit serious diseases to both dogs and cats. According to the Companion Animal Parasite Council, as many as 1 in 20 dogs tested positive for tick-borne diseases in 2021. Ticks climb onto pets from blades of grass or fall from overhanging trees and foliage. If a tick finds its way onto your pet, use tweezers or disposable gloves to grasp the tick as close to the skin as possible then pull straight out with steady, even pressure until the tick releases.
If you find a tick, carefully inspect all areas of skin, including behind the ears and between the toes, for additional ticks. After removing the tick, thoroughly clean the bite area with soap and water and wash your hands. Save the tick in a resealable plastic bag to show your veterinarian and take note of the time and place the bite occurred and any other details that may aid your veterinarian should an illness occur. Follow your veterinarian's advice about tick preventative measures, and make sure the product is safe to be used for your pet's size. Never use dog flea and tick products on cats.
Travel Safely
If you plan to travel with your pet, pack the necessities for your animal. Your pet's luggage should include food, water bowls, treats, a leash and collar, toys, medications and printed copies of medical records, including vaccination history. Check with your veterinarian to determine if a health certificate is needed for travel. Also ensure your pet is comfortable with his or her crate or carrier before flying or embarking on a long road trip.
Knowing where to take your pet in case of an emergency while away from home is also essential. Look up emergency veterinary clinics near your destination before departing or ask if your vet offers virtual care options. For example, through the myVCA app, you can access 24/7 live chat with licensed veterinary professionals.
Manage Allergies
Many of the same allergens that affect humans impact pets. Atopy, also known as inhalant allergy, is a common cause of skin problems in dogs and cats. Affected animals often have a history of chronic or recurrent itching and tend to have a history of repeated skin or ear infections. Itchy pets tend to scratch themselves, lick their feet and rub on furniture or carpet. Atopy can also cause cats to groom excessively and develop bald or crusty spots on their skin.
Some allergies may also affect the respiratory or digestive systems or the eyes. If your pet is displaying signs of allergies, your veterinarian can recommend appropriate testing and treatment to reduce symptoms.
Visit vcahospitals.com to find more ways to keep pets safe throughout the summer and book an appointment.
Photos courtesy of Getty Images

SOURCE:
VCA Animal Hospitals
5 Ways to Save on Last-Minute Summer Travel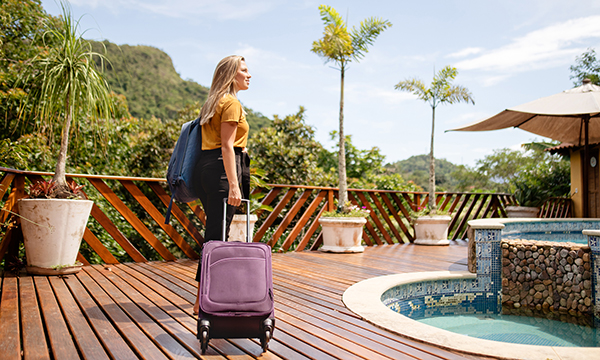 (Family Features) Summer travel is underway and finding time for a vacation can be difficult if you haven't already booked your trip. Plus, between airfare, hotel stays and fuel prices, costs can add up quickly.
Whether you're looking for a family-friendly adventure, romantic escape or relaxing getaway with friends, these tips can help you take a trip on a budget, even if time is at a premium and you had to wait until the last minute to sneak in your summer excursion.
Be flexible with dates: If you have flexibility in your travel dates, certain days of the week can yield savings. Choosing to fly midweek rather than on the weekend could mean paying less for airfare. Avoiding holidays can also help keep costs affordable. Use a fare calendar for flights and create price alerts to ensure you're getting a good deal.
Use rewards to save on accommodations: Signing up for a travel rewards credit card can help you save on your vacation. For example, the Hotels.com Rewards Visa Credit Card (rates and fees) from Wells Fargo includes a limited time offer allowing you to earn three reward nights worth a total of $375 ($125 per night, excluding taxes and fees) based on qualifying purchases. Cardholders also receive silver membership benefits at select properties, which can mean free breakfast, Wi-Fi and airport transfers. Plus, there are no annual fees or foreign currency conversion fees (see terms).
Look for free amenities: When searching for your next stay, look for hotels that offer complimentary amenities such as on-site parking, breakfast and Wi-Fi. These popular amenities can help add convenience to your trip while also reducing expenses.
Take advantage of mobile app deals: Using travel apps to begin the trip planning process – especially for last-minute excursions – can save you time and money. Some companies offer free rewards and deals that can only be accessed through their mobile apps. For instance, Hotels.com Rewards members can save 10% or more at properties around the world by using the app or website and earn stamps for every night they stay.
Book 2- and 3-star stays: Searching for hotels by star class and guest rating can help you find the perfect place to rest while on the road. By booking a lower star hotel for the night, you can also save money.
Find more tips and resources for planning your next trip at Hotels.com.
Photo courtesy of Getty Images

SOURCE:
Hotels.com