Home Upgrades for Better Indoor Air Quality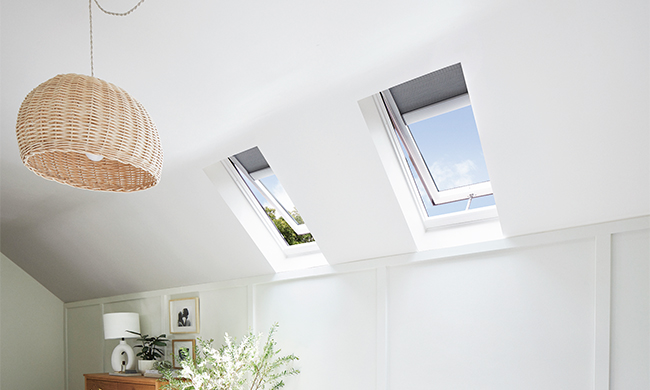 (Family Features) When most people think about air quality, they're typically thinking about outdoor pollution. However, according to the U.S. Environmental Protection Agency (EPA), the air inside your home can be as polluted, or even more so, than the air outside. The concentrations of some indoor pollutants can be as much as 2-5 times higher than typical outdoor concentrations.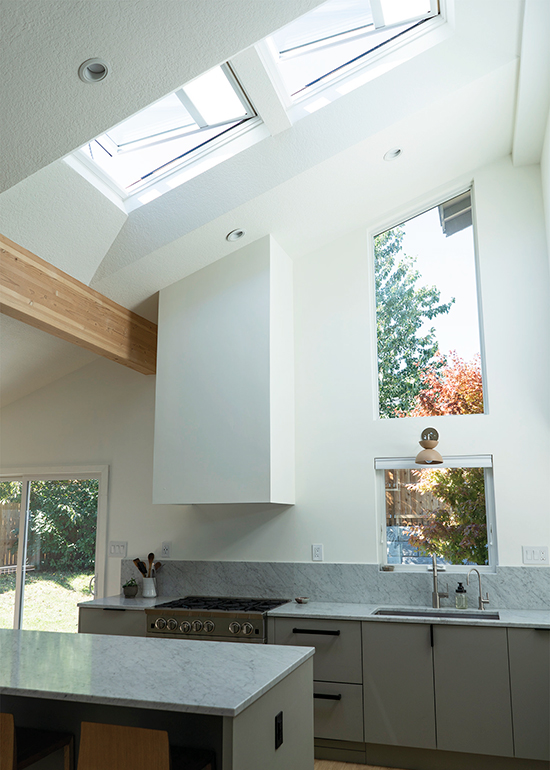 This is partly due to increasingly energy-efficient home construction and the growing use of synthetic materials in furnishings and interior finishes.
The air inside your home also contains pollutants from everyday activities like cooking, bathing and cleaning. A family of four can produce the equivalent of 22-30 pounds of moisture per day from normal activities, according to the Institute of Specialist Surveyors and Engineers, while household cleaners and products like paint, upholstery, carpeting and plastics can release chemicals containing volatile organic compounds. Pets and dust mites also contribute to poor air quality.
On average, Americans spend an estimated 90% of their time indoors, according to the EPA. All that time with minimal access to daylight and fresh air can take a toll on your health. For example, damp and moldy environments can increase the risk of developing asthma by up to 40%, according to research published by the Fraunhofer Institute for Building Physics.
Particularly after all the extra time at home due to the pandemic, homeowners are placing greater emphasis on home design and habits that promote health and wellness. These steps for managing indoor air quality can help you create a healthier home.
Support your HVAC system
Many homeowners assume their heating and cooling (HVAC) system is adequate to manage their home's indoor air quality. Typically, these systems only circulate existing indoor air, so you're missing out on the benefits of circulating fresher, cleaner air.
What's more, without regular servicing and frequent filter replacements, it's easy for standard HVAC systems to fall short. This is especially true in older homes or in households where there's a high volume of allergens like dust or pet dander. Adding standalone or integrated devices can help give your HVAC system some extra support. Air purifiers can effectively help filter pollutants while ultraviolet lights purify the air and help control pollutants like bacteria, mold and mildew.
Another common pitfall is humidity control. Too much moisture in the air can contribute to significant air quality problems. On the other hand, air that's too dry can promote dusty, abrasive conditions that are hard on allergies and other respiratory conditions.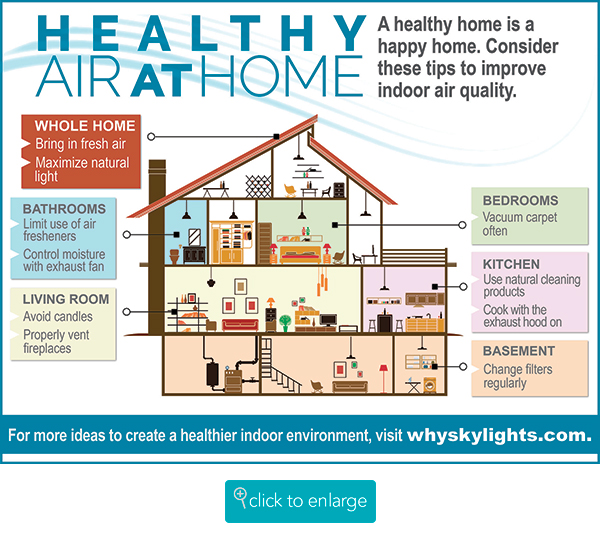 Improve fresh air ventilation
When it comes to upgrades that improve air quality, better fresh air ventilation is near the top of the list for many homeowners. Improved ventilation allows you to clear out stale, polluted indoor air and circulate fresh, outdoor air in your home.
Polluted air tends to stagnate at the ceiling, so one effective and energy-efficient way to create natural ventilation is with skylights that open. Sometimes called venting or operable skylights, when you open skylights in combination with vertical windows, you create natural airflow that can help release indoor air pollutants and bring in fresh, clean air to keep your home healthy and pleasant. This concept is known as the chimney effect. Warm air naturally rises and escapes from open skylights while fresh air is drawn inside through the windows. This practice can reduce your reliance on air conditioning, improving your home's overall efficiency and keeping a lid on cooling costs.
Today's skylights can also be automated to open and close at regular intervals or extend and retract shades to block light as needed. Many models, including those from Velux, can even connect to a smartphone app to combine convenience with a soothing mood booster that supports health and wellness.
Keep up with cleaning
Textiles like carpeting, rugs and window treatments can harbor a great deal of dust and dander that reduces air quality. It's important to regularly clean and air out these decorative fabrics and surfaces, especially thick carpet that is likely to host dust mites and bacteria. Remember air quality while you're cleaning, too, and opt for cleaning products with fewer chemicals. When possible, use microfiber cloths and natural materials like white vinegar and soap flakes.
Avoid adding to the problem
Burning a candle may make a room smell fresh and clean, but it's doing little to help improve your air quality. In fact, you're just masking unappealing odors while releasing harmful particles into the air. Similarly, smoking indoors traps those chemicals inside your home, which can wreak havoc on indoor air quality.
Watch for unexpected culprits
Many of the things that contribute to poor indoor air quality are obvious, but there are many others that may surprise you. For example, cooking food using gas appliances can emit hazardous chemicals and compounds, like nitrogen dioxide and carbon monoxide, that contribute to poor indoor climates when not properly ventilated. Homes with gas stoves contain 50-400% higher concentrations of nitrogen dioxide than those with electric stoves, according to a report from the Rocky Mountain Institute, and the EPA found prolonged exposure to the gas can lead to asthma and other respiratory issues.
Similarly, when plastics are warmed up, they can give off potentially toxic fumes. Avoid leaving toys or other plastic items in direct sunlight. If you have heated floors or other heated surfaces, keep plastic away to prevent those heat-provoked emissions.
With proper upgrades, adjustments and care, you can enjoy a home filled with fresh, healthy air and comfortable surroundings year-round. Learn more at whyskylights.com.

SOURCE:
Velux
Modern Kitchen and Bath Upgrades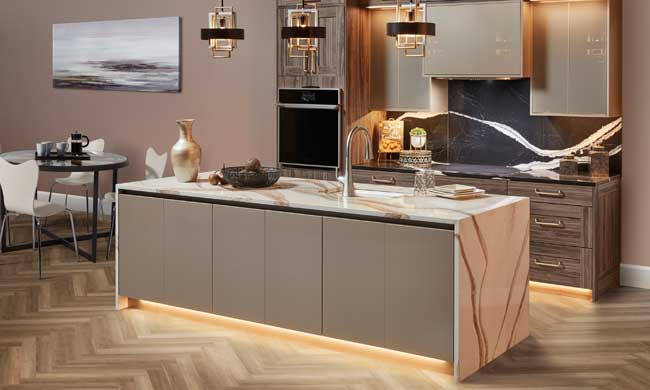 (Family Features) Upgrades happen for all kinds of reasons, but one of the most common purposes of a home renovation is to make essential spaces like kitchens and bathrooms more modern.
Modernizing your spaces isn't just about the aesthetic, although that is a major advantage, especially when it comes to resale value. Updating your kitchen and bath is also an opportunity to introduce new technology and enhancements that improve the function of these high-traffic rooms.
Modern styles simplify everyday living and can make contemporary entertaining more enjoyable. The sleek lines of modern design lend themselves to a clean look, which is supported by hidden features that make organization easier.
Smart Technology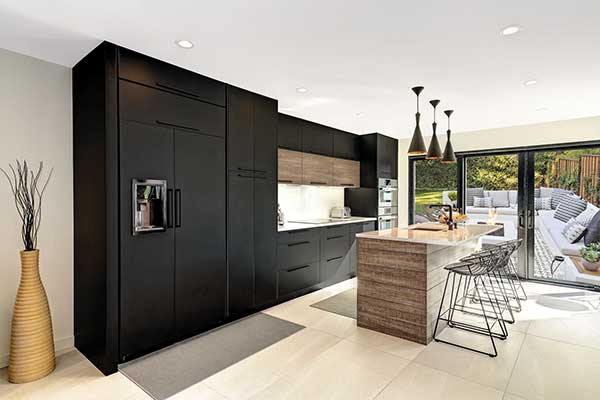 Although the idea of a connected home isn't new, technology is steadily improving. This means smart features are now often more affordable, easily integrated into the rest of your home and available to help manage a wider range of household items.
In the kitchen, you can add smart technology in numerous ways, from appliances and climate control to lighting and window treatments. For example, touch-to-open and push-to-open doors and drawers create a sleek, modern design while opening and closing with either a push or touch of a button for convenience.
Similar diversity is available in the bathroom, where you can incorporate connected health and fitness monitors, touchless toilets, mirrors that double as information centers, towel warmers and even showers that automatically adjust to your preferred temperature.
Paint
Changing the colors in a space is one of the most effective ways to transform the decor, but the walls aren't the only place where paint can make a big impact, especially in rooms like the kitchen or bathroom, where the cabinetry can make a bold statement.
Black is a hallmark of modern design and installing cabinetry with a black finish can instantly upgrade a room. To create visual interest, consider incorporating accent cabinets in a coordinating finish. For example, you could pair Wellborn Cabinet's Midtown wall cabinets finished in Matte Ebony with upper center cabinets finished in Putty Oak. An island in Bel-Air can incorporate both dark and light tones for a cohesive look.
Decorative Range Hoods
An exposed range hood is a trendy look that can add sophistication to your kitchen. Treating this functional element as a statement piece gives you another place to showcase your style and create a sleek and modern look. If your hood is covered, consider making the cabinet door a focal point with a material such as back-painted glass.
Multi-Purpose Sinks
While your sink has some obvious functions, you can upgrade the space for even more practical use. Some of the latest sink design innovations include built-in features such as cutting boards, colanders, bowls, drying racks and compost areas. In addition, motion activated wastebaskets with separate compost or recycling containers provide hands-free access to reduce unwanted messes.
Touchless Faucets
Public restrooms aren't the only places you can benefit from a touchless faucet. At home, the feature may come in handy when your hands are full or filthy. An automatic water flow is convenient and can help keep germs and grime under control. For the most on-trend, modern look, coordinate your faucets with other bathroom elements finished in gold hues, such as a laminate veneer vanity in a high-gloss gold finish.
Cabinetry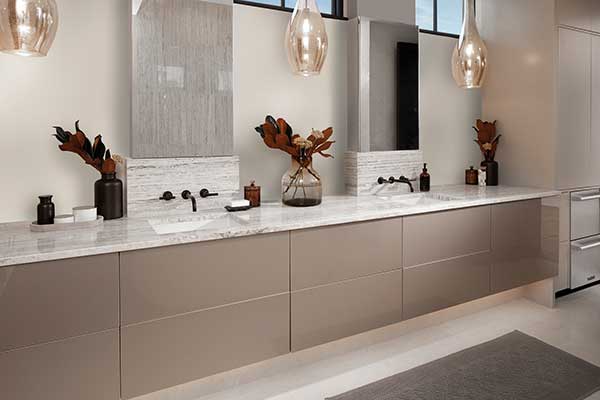 Collectively, cabinets are the biggest component of most kitchens. Since kitchens tend to be the hub of the home, it's important to maintain a homey feel while adding the luxury of modern features. Using warm colors, gold-toned hardware and sleek door styles can deliver a glamorous yet welcoming design.
For example, Wellborn Cabinet's Aspire Full Access Frameless line features flat moulding and flush lines to create a thoughtfully integrated flow throughout the kitchen. A Morristown door in the Smokey Walnut finish and Serenity metal doors in Sand Gloss Glass marry heirloom quality and contemporary finishes for a beautiful and functional space.
Free-Standing Tubs
A luxurious soaking tub is a top demand for many homeowners, and trends are moving toward free-standing options that create a focal point in an oasis-like bathroom. You may be envisioning an old-fashioned claw-foot style, but there are numerous modern takes on the traditional version that can fit seamlessly into your modern design scheme.
Wood-Look Flooring
Natural wood floors were once the gold standard, but thanks to improvements in the quality and appearance of laminate and vinyl products, you can find alternative flooring in even high-end homes. Laminate and vinyl planks give the same look as wood (or stone, if you prefer) to complement a modern aesthetic, usually at a lower price point and with greater durability over time.
Find more ideas to modernize your living space at
wellborn.com.

SOURCE:
Wellborn Cabinet